Albrecht Dürer
(German, 1471 – 1528)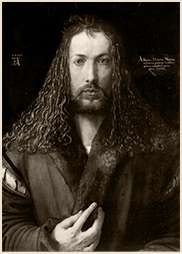 Albrecht Dürer was born in Nuremburg in 1471, the third child of a goldsmith who had trained in the Netherlands with the "great masters."  As a young man, Dürer was trained in his father's shop.  It is essential to understand the importance of the skill that he acquired at a young age with the goldsmith's tools, for it was in the workshops of craftsmen who incised decorations on objects of precious metal that some of the most interesting early engravings were produced.  Thus, the foundation of his achievements as an engraver must be credited to his father.
Apprenticeship and First Journey
By the time Dürer turned 15 years of age he had convinced his father to allow him to become a painter.  In 1486 he was apprenticed to the painter and printer Michael Wolgemut.  Even though Wolgemut was not an artist recognized for his great talent, his workshop was widely known.  The shop was involved in producing books illustrated with woodcuts.  At this time Southern Germany became a center for publishing, and it was commonplace for painters of the period to become skilled at producing woodcuts and engravings.  In Wolgemut's shop Dürer had the opportunity to learn from beginning to end the arts of designing, cutting and printing woodblocks.
Dürer ended his apprenticeship in 1489 after which it was customary for a young man in his position to embark on a bachelor's journey.  This journey was to keep him away from Nuremburg for 4 years.  He traveled to Colmar in 1492 where he intended to join the workshop of the great German printmaker Martin Shongauer, but by the time he arrived Shongauer had died.  Shongauer's brothers suggested that he travel on to the Swiss publishing center of Basel to find work.  There, and later in Strasbourg, Dürer created illustrations for Saint Jerome's Epistolare, and Sebastian Brandt's Das Narrenschiff (Ship of Fools).
First Italian Journey
In 1494 Dürer returned to Nuremburg where he married Agnes Frey.  Shortly afterward he left on his first Italian journey.  During the next ten years back in Nuremburg, between 1495 and 1505,  Dürer produced a large number of works that firmly established his fame.
Amongst the works produced during this period are the 15 woodblocks, plus title page, illustrating the last book of the New Testament, The Revelations of Saint John the Divine, or The Apocalypse, foretelling the events that would take place on earth at the Second Coming of Christ.  Never before had a single artist executed a project of such scope with total mastery of every aspect.  The Apocalypse was the first book in history to have been illustrated, printed and published by an artist.
Engravings produced during this period include the "Large Fortune" or "Nemesis" (Strauss  37), and "The Fall of Man" or "Adam & Eve" (S. 42), illustrating Dürer's mastery of human proportions based on the work of the ancient Roman writer Vitruvius.  He was so justly proud of "Adam & Eve" that it is the only print to which he added his full name as signature.  Also produced during this period was "Saint Eustace" (S. 34).
Second Italian Journey
Dürer once again traveled to Italy between 1505 and 1507.  During this trip he met and studied the paintings of the great Italian Renaissance master Giovanni Bellini, and the engravings of Bellini's brother-in-law Andrea Mantegna, in which Mantegna attempted to capture all the nuances of classical painting.  During the visit Dürer also studied the revolutionary ideas of Leonardo da Vinci.  He studied the whole intellectual background of the Italian Renaissance including the writings of the humanists.  As a result he was able to create his own personal synthesis of the arts of the north and the south.
Upon Dürer's return to Germany he intensified the learned side of his art and personality; he studied mathematics, geometry, Latin and humanist literature.  Having become aware of the superior social status of artists in Italy, he returned to Germany and sought out the company of the leading scholars and humanists including Martin Luther and Desiderius Erasmus.  In 1512 Dürer was appointed court painter to the Holy Roman Emperor Maximilian I, a post that included a yearly stipend.
Back in Nuremburg in 1507 Dürer began his second period of great productivity during which he produced a small number of great paintings and many great prints.  In 1511 he published the 12 woodcuts comprising The Large Passion, the 17 woodcuts comprising The Life of the Virgin, and 36 woodcuts comprising The Small Passion.  Engravings include 15 plates comprising the Engraved Passion, and the monumental single plates "Knight, Death and Devil" (S. 71), "Saint Jerome in His Study" (S. 77), and "Melancholia I" (S. 79).
Final Journey and Late Works
Between 1520 and 1521, laden down with prints and other artworks which he sold along the way to finance his trip, Dürer traveled from Nuremburg to Aachen in order to gain an audience with Charles V, the successor to Maximilian as Holy Roman Emperor, from whom his post and pension as court painter was ratified.  He traveled from there to Antwerp, Brussels, Cologne, Middleburg, Bruges and Ghent keeping a diary along the way which provides a fascinating account of his travels, his audiences with royalty, and his reception by fellow artists.
Dürer's final monumental works are two large panel paintings depicting "The Four Apostles," which were presented as his gift to the city of Nuremburg.
Dürer finally returned to Nuremburg in July of 1521, after venturing off to the swamps of Zeeland in search of a beached whale.  He remained in Nuremburg where he worked unremittingly, in spite of ill health from fever probably contracted in Zeeland, until his death in 1528.
The quality of Dürer's work his prodigious output, and his influence on his contemporaries, all underscore the importance of his position in the history of art.  Despite his large workshop he had no clear successors, as his art was too universal and yet too personal to breed imitators.  Approximately 60 of his paintings survive and are featured in select museums; however, his prints are included in virtually every major print room in the world!
---